With the assistance of our friendly team, our dentists, Dr. Rochelle Riley, Dr. Craig Brandon and Dr. Rick Light, can help you improve the health, function and beauty of your smile. We offer personalized dental care in Puyallup, Washington, and together, we can help you create the smile you have always wanted. To set up your appointment at Northwest Dental Medicine, call 253-845-9507.
Britta — Dental Assistant
Britta joined our team in 2019 as a dental assistant. She has studied as a dental technician and German DDS and PhD. She has lived in the greater Seattle area since 2015 and enjoys yoga and outdoor activities. When not at work, she enjoys spending time with her two children.
Destinee — Lead Dental Assistant
Destinee has been working with Northwest Dental Medicine for over five years and is our lead dental assistant. She is from Tucson, Arizona, and moved to Washington in 2016. She loves living here with all of the green trees and endless hiking opportunities. In her free time, Destinee enjoys spending time outdoors, hiking, camping and barbequing at the lake. She loves spending time with family and friends and enjoys trying new restaurants and different types of food.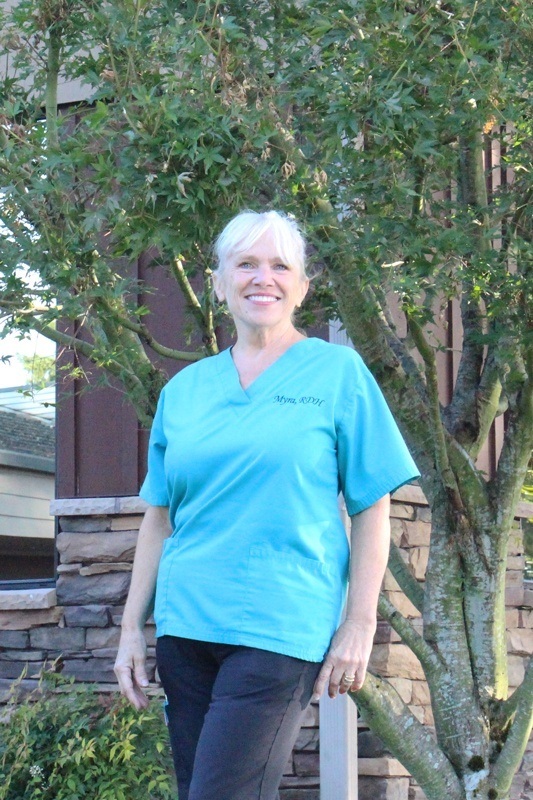 Myra — Dental Hygienist
Myra has been part of the Northwest Dental Medicine family since March of 2016. She started in the dental field in March of 1974 in the US Army.Myra is married with three children and seven grandchildren. She enjoys family time, camping, hiking, country dancing, gardening and trains. Although she has lived in many places, the Washington native keeps coming home to our beautiful state.
Nicole — Front Office Administration
Nicole was born and raised in Puyallup and has seen this great area grow and change through the years. Nicole started her career as a dental assistant in 2003, and within the last five years, she has transitioned into dental administration and billing. She initially started with Northwest Dental Medicine in 2015. When she is not here helping our patients, she spends her time with her husband and two daughters.